WRDA 2016: Reclaiming Our Transportation Infrastructure
By Jim Romeo
In the United States, transportation infrastructure is the bedrock of our supply chains. Ports and waterways in the United States moved over 2.3 billion tons of goods in 2014. A robust maritime infrastructure to support such ports and waterways helps goods to move freely and aid in more flow of trade and ultimately greater economic stimulus. Port authorities and waterways commissions are always seeking better ways to increase cargo volume and subsequently aid their surrounding states and regions - which all benefit the overall commerce of our nation.
In response to this omnipresent demand, The Water Infrastructure Improvements for the Nation Act (WIIN), comprehensive legislation that includes the Water Resources Development Act of 2016 (WRDA 2016) has made its way through Congress and attends to the need for strong and capable waterways – from channel depths to widths and other needed parameters to accommodate more cargo volume.
Recently enacted by the 114th Congress and signed by President Obama, it authorizes the Army Corps of Engineers to improve navigation and flood management, construct projects to mitigate storm damage and assist local and state governments as well as many other provisions outlined in the text of the legislation.
Strengthening Supply Chains
Strengthening and enhancing supply chains is an expected benefit from WRDA. "Clearly, freight transportation is a major component of supply chain processes and therefore a primary focus of supply chain management," explains Dr. Bruce G. Ferrin, Associate Professor, Haworth College of Business, Western Michigan University, Kalamazoo, Michigan.
"Supply chain designs and strategies follow transportation processes and costs as government funding improves infrastructure supply chain management strategies will react to the improved infrastructure if that improved infrastructure increases supply chain responsiveness – reduces lead times, and efficiency – reduces costs," says Ferrin. "Since the WRDA 2016 deals directly with funding and procedures for 'water resources development' its provisions should have a direct impact on marine transport."
Ferrin posits that some parts of the act serve to give the Army Corps of Engineers more flexibility in obtaining funding or materials to support water resource development. "Such flexibility likely would reduce the time it takes the Army Corps to begin work on, and finish, approved projects."
Ferrin also notes that other sections of the legislation make it easier for smaller or newer ports and harbors to get access to federal funding. "This could mean more ports will have access to federal funding for development or maintenance," he says. "Such improvements likely would attract better service – more vessel calls, more frequent vessel calls – from marine carriers."
The legislation and the funding formulas it allows, should also aid next-generation Panamax vessels. These vessels may now transit the Panama Canal due to its recent widening. They require a depth of between 45 and 50 feet. Enabling waterways to accommodate such vessels is expected to catalyze trade volume.
New Panamax ships can carry 120,000 DWT and 13,000 twenty-foot equivalent units (TEU), about twice their previous capacity. Such large vessels mean significantly more trade volume to ports who can accommodate them. Accommodating them means suitable capital equipment such as cranes and siding, but also waterway depth.
"In the era of a widening Panama Canal with the rise in post-Panamax ships, the state of our ports is a concern because the shipping industry will expand whether we are ready for it or not," said Representative Mark Sanford, a Congressman whose district includes Charleston, SC and voted in favor of the Act. "This bill will help us accommodate these larger shipping vessels by upgrading our ports, through which 99 percent of U.S. overseas cargo moves."
Wide Reaching Benefit
WRDA and WIIN are wide reaching. They will benefit a multitude of ports throughout the United States – which will include ones that require a deep draft port as well as others who need other studies and capital projects to commence.
Carl Uchytil, P.E. is the Port Director of Ports and Harbor for Juneau, Alaska. He is quick to point out that Alaska can use the benefit that this legislation is expected to provide. "Alaska is a maritime state with over 33,000 miles of coastline," says Uchytil, adding, "The ability to link communities is crucial to building economically diverse and resilience harbor communities. Recapitalization of aging and inefficient public infrastructure must be prioritize by elected officials and embraced by the business community." More specifically, the role of economic development through infrastructure improvement is greatly needed in Juneau, Alaska, but in many ports throughout the country.
"WIIN will authorize the Army Corps of Engineers to improve navigation and flood management, construct projects to mitigate storm damage and assist local and state governments," he says. "For Alaska, WIIN will require the Corps of Engineers to carry out feasibility study of an Arctic Deep Water port. The U.S. is an Arctic nation because of Alaska, a strategic Arctic port in this state is necessary to remain active & influential in the polar regions. The bill also advances the port and arbor infrastructure needs at St George, Craig, Little Diomede, Elfin Cove and Valdez. Progressing harbor expansion and development plan at these locations will provide economic opportunities in rural Alaska." Many other ports also expect to benefit from WIIN.
Brazos Island Harbor, in Brownsville, Texas also has had plans to expand their waterways. One of their projects would increase the depth of the federal channel to 52 feet for portions of the inner channel and 54 feet for the entrance channel. The total initial project cost is $207.5 million. The federal share will be $117.7 million, and the non-federal share will be $89.8 million. This share allocation, however, could change with the WRDA of 2016 and be more favorable to Brownsville.
For South Carolina's Charleston Harbor, plans are to deepen the entrance channel to 54 feet across the 800-foot width, while reducing the existing stepped 1,000-foot top channel width to 944-feet. Part of the the inner harbor will be deepened from 45 feet to about 52 feet deep.
At Port Everglades in Broward County, Florida, a project would increase the depth of the navigation channel to 48 feet, widen the outer entrance channel to 800 feet, and widen some access channels and turning basins. Initial project costs were estimated at $329 million: $224.5 federal share and $104.5 million, non-federal share. This allocation of cost share could also improve under the WRDA of 2016.
Dredging Promotes Competitive Maritime Capability
Accomplishing the needed maintenance and modernization at ports and harbors is essential to creating a competitive maritime capability. Funding these improvements has relied on a cost-sharing formula for deepening projects, widening projects, extension of funding authorization for donor and energy-transfer ports, and new language to improve the approach of appropriating annual Harbor Maintenance Trust Fund (HMTF) (in 1986 Congress established a user fee known as the HMTF for coastal ports and harbors) revenues until full use of the funds is achieved in 2025.
The cost-sharing formulas outlined in the WRRDA would establish 50-feet as the depth where the federal government would cover 75 percent of the dredging cost and local sponsors would pay the balance for deepening projects. For the past thirty years, those projects requiring depths beyond 45 feet were split 50-50. The Water Resources Development Act (WRDA) of 2014 changed this slightly: the cost-share depth expanded to 50 feet from 45 feet – for maintenance dredging. The WRDA of 2016 expands both new construction and maintenance dredging policies to be cost-shared to 50 feet, as many of the next-generation cargo vessels need such depths to transit and operate.
Sean M. Duffy, Sr. as the Executive Director of the Big River Coalition, located in the New Orleans area but the Coalition's membership stretches across the Mississippi River and Tributaries. "WRDA 2016 builds on WRRDA 2014 by authorizing eight new navigation projects and a modification of another navigation project, authorizing six feasibility studies for new navigation projects and feasibility studies for modifications of three other navigation projects," says Duffy. "The most important project for the membership of the Big River Coalition is undoubtedly the one related to deepening the Mississippi River Ship Channel - Baton Rouge to the Gulf of Mexico, to 50 feet."
Duffy also notes that cost sharing expedites capital improvements as it provides for more generous government aid. "WRDA 2016 also reduces the non-Federal cost share of the deepening of navigation channels up to a threshold of 50 feet from 50 percent Federal and 50 percent non-Federal to 75 percent Federal and 25 percent non-Federal," he adds. Dredging at many ports is expected to be the stimulus behind economic expansion that will result when a port is deepened by strengthened. "Inadequate harbor depths restrict the size and loading capacity of vessels that can enter U.S. ports for imports, exports, and domestic trade, including containerized and bulk shipments," says Sean Duffy. "This adds inefficiencies and drives up supply chain costs. At a time when U.S. productivity gains have been shrinking, deepening harbors and maintaining harbors at their constructed depth would improve transportation productivity and U.S. competitiveness. The U.S. Army Corps of Engineers did the last nationwide study on how often our 59 busiest harbors had their fully authorized width and depth in 2009. That study documented that our most important navigation channels had fully-authorized dimensions just 35 percent of the time. Since the time of that study the HMTF surplus has grown by more than $3 billion."
Duffy caveats this by stating that the needed fiscal resources must follow the act. And, he says, Federal appropriations for navigation projects remain inadequate and tenuous. "We are ready to work with the new Administration and the Congress to build greater funding stability into this system," he says. "The multi-billion-dollar capital improvements to both the Suez and Panama canals leave the U.S. Navigation channels as the controlling factor in water transportation efficiencies through the new norm of global ship sizes. The Federal investments in navigation channel improvements and maintenance are essential in order that the $155 billion in port capital investments over the next 5 years can be realized to keep U.S. goods competitive in the global marketplace."
"Clearly, the time to prepare for the future is upon us," says Duffy, "and the world awaits the United States reinventing, reclaiming and refinancing its transportation infrastructure."
(As published in the February 2017 edition of
Marine News
)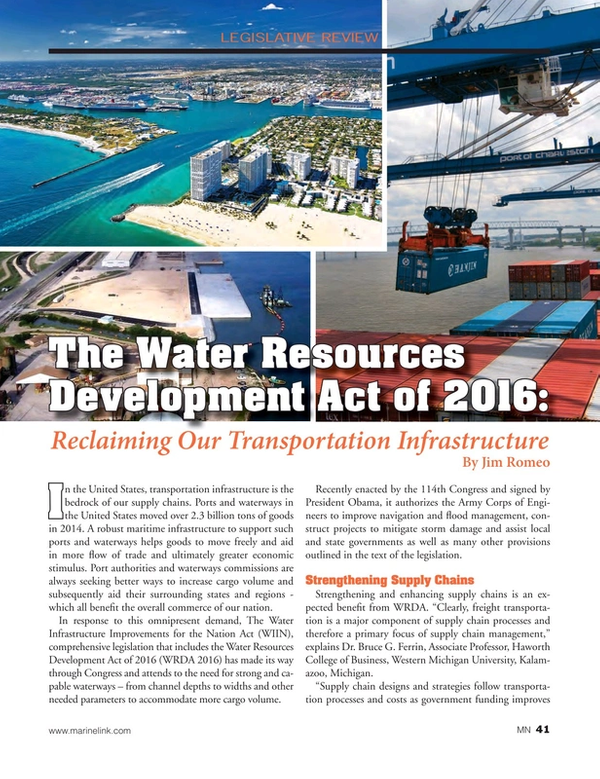 Read WRDA 2016: Reclaiming Our Transportation Infrastructure in Pdf, Flash or Html5 edition of February 2017 Marine News
Other stories from February 2017 issue
Content