AIS, AtoN, MTS – and you
By Mark Wiggins and Greg Johnson
USACE and USCG collaborate to make inland waterways safer.
The United States Army Corps of Engineers (USACE), supported by Alion Science and Technology (Alion), has put forth considerable effort during the last two years to further extend the capabilities of the existing Automatic Identification System (AIS) network to improve the safety and efficiency of navigation along the inland rivers.
Alphabet Soup: AIS, MTS, AtoN & VTS
The USACE works with the United States Coast Guard (USCG) and other agencies and stakeholders to operate and maintain the nation's Marine Transportation System (MTS). A primary tool to manage the MTS is the visual Aids to Navigation (AtoN) system. The USCG also oversees the Nationwide AIS (NAIS), an automated system for the exchange of navigational information between vessels and shore stations that is based on the AIS required for most commercial vessels by the International Maritime Organization (IMO).
AIS information may include vessel-specific information, location, and speed supplemented by other government information and sensor data to support safe operation and domain awareness in U.S. waters. AIS may also be used to transmit information to support navigation, such as the locations of hazards. The transmission of electronic information to supplement visual AtoN is termed here as electronic AtoN (e-AtoN). It is one part of a more comprehensive and systematic integration presentation of electronic information to support navigation that is termed as e-Navigation (e-Nav).
Traditionally, AIS has been used to broadcast vessel position, course, speed, and other vessel information to nearby vessels and shore authorities such as Vessel Traffic Services (VTS). This information is then plotted and displayed on an enabled radar display or electronic chart system (ECS). The goal of the USCG and USACE is to transmit additional safety- and navigation-related information such as weather, water depth, river current, Synthetic and Virtual AtoN, vessels in lock queue, lock status, and USACE Notices to Navigation Interests (NTNI) information. The new information helps improve maritime safety and domain awareness with the use of Synthetic and Virtual AtoN information. They serve to identify an existing physical AtoN (Synthetic) or one that is nonexistent (Virtual). These AtoNs may be displayed on the mariners' ECS/radar to allow easy identification of radar return of the AtoN or to augment physical AtoN in tough-to-maneuver areas.
e-Navigation on Inland Rivers
e-Nav capabilities have been installed and used on the lower Ohio River and adjacent Mississippi River for over two years. It began as a proof of concept test with the USCG. Alion, working under contract to the USCG and USACE, designed and implemented the test bed that has now transitioned to a permanent and expanding e-Nav infrastructure. It is managed predominantly by the USACE under Mr. Brian Tetreault.
The additional AIS information is currently being transmitted from the following USACE locks: Markland, McAlpine, Cannelton, Newburgh, J. T. Myers, Smithland, Lock 52, Kentucky Lock, Barkley, and the Olmsted Locks and Dam project. The USCG also transmits the messages from the Nationwide Distress System (NDS) site at Battletown, KY, as well as transmitters in Louisville, KY, and one in Owensboro, KY.
More than just vessel and environmental data can be received. For example, Notice to Navigation information is often transmitted. These define temporary zones to be set for safety, security, or traffic management among other things. This information is displayed as an overlay on the ECS and allows the mariner to quickly see areas to avoid. Environmental information transmissions such as weather, river current, and water depth are collected from the National Oceanic and Atmospheric Administration, the Weather Service, the USACE, the USGS, and private weather stations. This information is also displayed on the ECS to aid in course planning and decision making along with Lock Status and Vessel Queue.
Crews will be able to view the current lock status and the vessels awaiting lockage as well as their schedule and direction of transit. Each lock transmitter relays information related to its traffic and status as well as its adjacent locks.
All of this information is available for display on vessels using their existing VHF AIS equipment and an ECS that is AIS message 21 and Application Specific Message (ASM) capable. RosePoint – a marine navigation system and software provider – has been a leader in implementing the AIS ASM standards, which allows the AIS data messages to be displayed in a user-configurable fashion. RosePoint currently supports these e-Nav messages, but it must be enabled in the settings first by enabling Experimental ASM in the Settings-Rose Point Labs menu.
As more ECS providers enable their software to properly interpret and display the AIS information (which is being received presently), the more readily all stakeholders can use the data. There are currently minimal standards for how the e-Nav information is displayed or portrayed on ECS; thus end users and manufacturers must work together to ensure that the data are displayed in a useful, but non-intrusive manner. As the manufacturers adopt more of the e-Nav standards, the more configurable and customized each ECS display can become.
The Authors
Gregory Johnson is a Senior Program Manager at Alion Science & Technology in the New London, CT office. His group provides research and engineering support primarily to the U.S. Coast Guard R&D Center. He has a BSEE from the Coast Guard Academy (1987), a MSEE from Northeastern University (1993), and a PhD in Electrical Engineering from the University of Rhode Island (2005).
Mark Wiggins is a Senior Systems Engineer with 32 years of experience including 20 years with the U.S. Coast Guard. He served on 4 cutters, a small boat station, R&D Center, US Coast Guard Academy and the Leadership and Development Center. He has since been a systems engineer for Alion Science & Technology for over 12 years, involved with design, evaluation, integration, testing and improvement of complex systems.
(As published in the December 2017 edition of
Marine News
)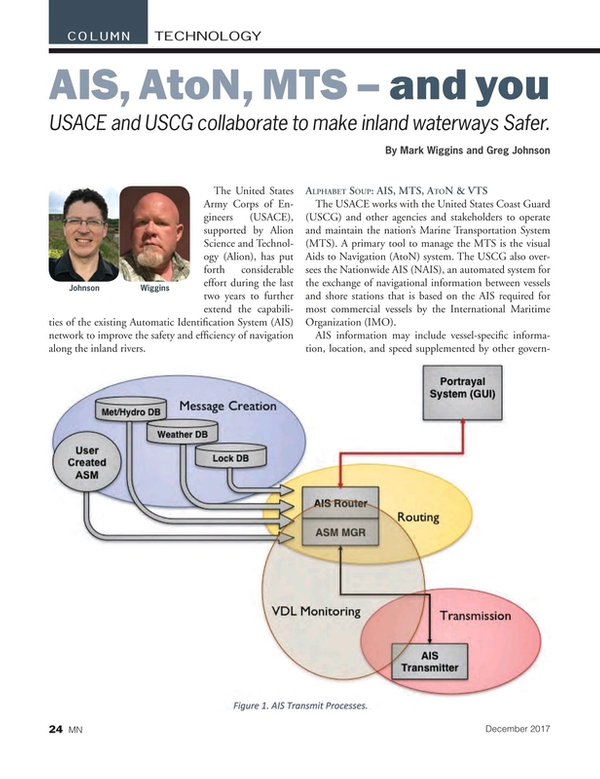 Read AIS, AtoN, MTS – and you in Pdf, Flash or Html5 edition of December 2017 Marine News
Other stories from December 2017 issue
Content