What Hurricanes Teach Us About Energy Security
By Randall Luthi
After a few years of relative calm, the 2017 hurricane season wreaked havoc in the Atlantic and the Gulf of Mexico, causing widespread damage and human suffering, and exposing the vulnerabilities and strengths of American energy security. As the flood waters from Hurricane Harvey receded and Gulf coast residents embarked on the arduous road to recovery, the offshore energy industry took stock and counted its losses and blessings.
Offshore energy facilities faired remarkably well compared to onshore energy facilities, many of which suffered catastrophic damage from flood waters. In fact, there were no reported deaths or injuries among offshore workers, no reported damage to offshore facilities and no reported spills from offshore facilities. The same held true after Tropical Storm Nate barreled through the Gulf several weeks later.
This is a testament to how well the offshore industry prepares for and responds to hurricanes. Even during the devastating 2005 storm season when Hurricanes Katrina and Rita ravaged the vital energy infrastructure of our Outer Continental Shelf (OCS), 97 percent of offshore facilities survived the record-breaking storms, every single offshore safety valve held, there were no significant spills from offshore facilities and there were no deaths or injuries among offshore workers.
In the aftermath of such devastating storms, offshore companies have a proud history of providing critical support during disaster recovery efforts onshore. Following Hurricane Harvey, offshore companies again stepped up, providing support services, emergency funds, housing and other assistance to their employees, and donating tens of millions of dollars to the Red Cross and similar organizations.
While we can be justifiably proud of our industry's safety, environmental and philanthropic record, natural disasters like Hurricane Harvey and Tropical Storm Nate also expose the vulnerability of America's offshore energy security. Coincidentally or not, we have placed the vast majority of our offshore energy eggs in one basket – the Gulf of Mexico.
Energy companies working in the Gulf of Mexico produce about 1.7 million barrels of crude oil and 3.2 million cubic feet of natural gas per day. The Bureau of Safety and Environmental Enforcement (BSEE) estimated that 24.5 percent of oil production and 26 percent of natural gas production from the Gulf of Mexico was temporarily curtailed as a result of Harvey. Several weeks later, Tropical Storm Nate forced even more production to be shut-in, temporarily curtailing 92 percent of oil production and 77 percent of natural gas production from the Gulf of Mexico, according to BSEE.
In addition, because Harvey was such a slow-moving storm, the flooding that followed forced the closure of refineries along the Texas coast, taking offline 25 percent of the nation's crude oil refining capacity. Less than two weeks after Harvey, gasoline prices, including those from pumps thousands of miles away from the Gulf of Mexico, reached their highest level in two years.
Partly because hurricanes have the potential to strike the heart of the U.S. offshore energy industry and temporarily weaken our nation's energy security, the National Ocean Industries Association (NOIA) has long advocated for increased access to federal offshore areas outside of the Gulf of Mexico. However, due to short-sighted federal policy decisions, only 6 percent of the OCS is currently accessible to the offshore oil and gas industry; nearly 94 percent is off limits to oil and gas exploration and production.
The success of the offshore energy industry has made the U.S. the world's leader in the production of oil and natural gas. However, Harvey and Nate revealed just how precarious that position is. The lack of new sources of oil and natural gas outside of the Gulf of Mexico, and infrastructure that is centralized along the Gulf Coast led to temporary shut downs in the energy delivery system for major population areas of the U.S. and a rapid rise of gasoline prices at the pump.
Luckily, the wisdom of those before us provided a mechanism known as the Strategic Petroleum Reserve (SPR) to keep many refineries running, and President Trump released 500,000 barrels of oil from the reserve to ensure that there were no severe shortages – this time. Ironically, many who are adamantly opposed to oil and natural gas development, and who have championed the "keep it in the ground" movement, saw the wisdom of the SPR and joined the calls to bring oil out of the ground to avoid severe supply shocks to the gas pumps and consumers following Harvey and Nate.
Simply put, we dodged an energy security bullet during the 2017 hurricane season. By geographically concentrating our nation's offshore energy production, the U.S. is rolling the dice when it comes to natural disasters. The U.S. may not be as lucky next time if we don't ensure the continued development and production of our energy resources from both inside of and outside of the Gulf of Mexico. Not only would exploring and developing new areas off our coasts be a victory for American energy and economic security, it would give us peace of mind next time a catastrophic storm plows through the Gulf of Mexico.
Thankfully, the Trump administration re-opened the discussion about how we manage the energy sources off our coasts and is in the second stage of developing a new and more expansive National 5-Year OCS Oil and Leasing Program for 2019-2024 to replace Obama's 2017-2022 program, which took the entire Atlantic OCS and much of the Arctic OCS off the table. Decentralizing offshore energy sources will strengthen American energy and economic security by ensuring production of offshore oil and natural gas continues, even if hurricanes or other natural disasters cause temporary disruptions from onshore and offshore energy producing areas.
Now is the time for big "out of the box" thinking. Never has there been a better time for federal policy makers to craft long-term solutions to providing diverse energy sources (both traditional and non-traditional) and energy delivery systems to ensure energy consumers are protected. Five year leasing programs could become 20 year leasing programs, providing long-term certainty to both industry, regarding which areas can be leased, and conservation groups, regarding which areas cannot be leased. This should also include more pipelines and more refining capacity in more areas, increasing the areas open for offshore energy exploration and development and protecting the SPR by establishing a method of replacing reserves in times of plenty.
Today, oil and natural gas production from the U.S. Gulf of Mexico, the hub of our offshore energy industry, accounts for 19 percent of domestic oil production and 5 percent of domestic natural gas production, generates billions of dollars in revenue for state and local governments and the U.S. taxpayer, and supports hundreds of thousands of jobs. With the right government policies, particularly regarding access to offshore areas, industry has the potential to unlock additional sources of energy, create tens of thousands of new jobs and bring in billions of dollars in new government revenue. We have the know-how and technology to ensure weather-ready American energy dominance; we just need the political will.
The Author
Randall Luthi is President, National Ocean Industries Association (NOIA).
(As published in the December 2017 edition of
Marine News
)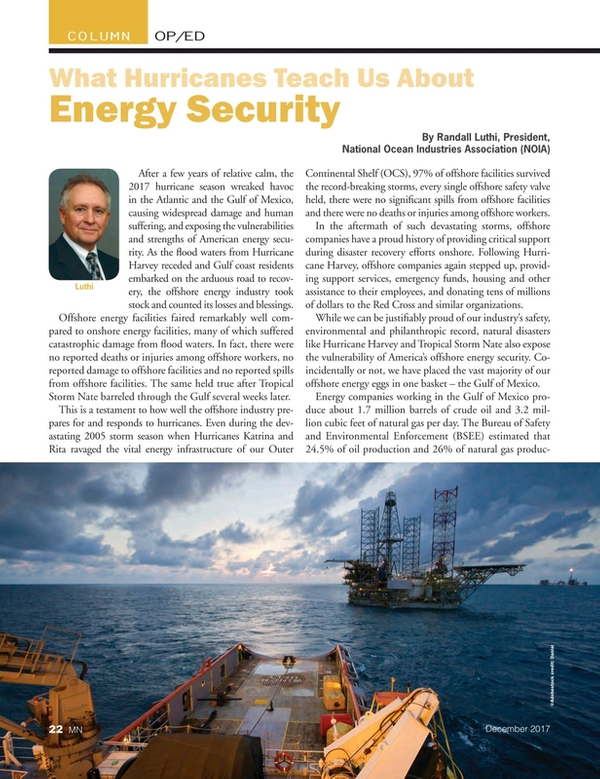 Read What Hurricanes Teach Us About Energy Security in Pdf, Flash or Html5 edition of December 2017 Marine News
Other stories from December 2017 issue
Content