Alan C. McClure Associates Develops Line Of 36-Foot Workboats
Alan C. McClure Associates, Inc., of Houston, Texas, has developed a high-speed, multi-mission work-boat for series production. The all aluminum catamaran design has a length of 36 feet 6 inches, a beam of 14 feet and a draft of 1 foot 4 inches. The boat is equipped for t r a sh and debris pick-up, dredging, fast-response oil spill clean-up, fir fighting, shallow water diving support and is intended for coastal and harbor service throughout the world.
The prototype design incorporates an articulated basket forward arranged to collect floating debris and dump it into one of two baskets carried on-board. A one-ton crane can pick up large or heavy objects, and can also off-load the baskets. The vessel is equipped with a submersible pump and dredge head to allow dredging in shallow waters, such as marinas and waterways.
For critical response time functions, the vessel is outfitted with both oil spill clean-up and fire fighting equipment. The oil spill cleanup system uses a disc type oil skimmer and provides for collection of 200 GPM of refined products from the water surface. Collected oil is pumped directly to a trailing barge, storage boat, or inflatable storage bladder. For firefighting duties, the vessel utilizes a fire pump/monitor system capable of producing 450 GPM at 100 psi providing 120 feet of spray. The monitor can also be used to spray dispersant or cleaning solution from an onboard tank. In addition, the vessel is equipped with shallow water diving support employing a portable, onboard air compressor.
An aluminum catamaran hull was chosen to provide grater stability, convenient space between the hulls for the debris scoop and oil spill collection equipment, and to reduce the weight and wetted surface that would result from a broad-beamed monohull. The bow has a pivoted section which, when deployed, increases the mouth width of the center channel to approximately twoand- a-half times, which significantly improves the scope and effectiveness of debris pick-up and oil skimming operations. Despite its wide range of capabilities, the boat is designed to be simple, inexpensive, and suited to quantity production.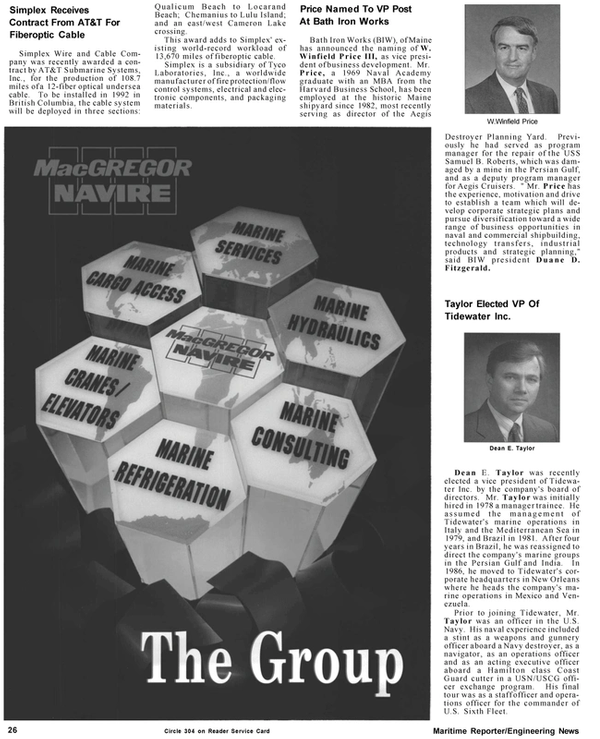 Read Alan C. McClure Associates Develops Line Of 36-Foot Workboats in Pdf, Flash or Html5 edition of March 1992 Maritime Reporter
Other stories from March 1992 issue
Content