To Meet New Regulations, Metritape Introduces Deck Master Gaging System
Metritape, Inc. of Littleton, Mass., has produced tank gages for ocean tankers for more t h a n 25 years. The firm's products were important in the movement toward closed tank gaging impelled by Inert Gas Systems (IGS) and Crude Oil Washing (COW).
In May 1990, Metritape was approached by a barge manager of a major oil company, well in advance of projected compliance dates in New Jersey, to equip a fleet of integrated tank barges with vapor retention systems and associated closed-tank monitoring equipment.
Metritape used this opportunity to introduce its new Deck Master gaging system which included the required separate and independent overspill sensors and local, on-deck monitoring displays and alarm annunciators. Digital displays and CPU instrumentation provided programmable flexibility in the event regulations became altered during final promulgation stages in certain regions.
Deck Master tank monitoring systems complied with emerging federal and state regulations.
Barges so-equipped could be expected to pass the anticipated Coast Guard inspections requiring gage redundancy, independence of overfill alarms and on-deck visibility, etc. The gaging system was designed to enhance efficiency and safety during cargo transfers by providing better data, appropriately displayed and selfchecked.
Barge managers soon learned that the equipment not only reduced the possibility of spills, but also cut the time and cost of transfer operations.
In August 1990, a second major operator of integrated tug-barge systems in the mid-Atlantic approached Metritape to equip more t h an a dozen of its tank barges.
The mandated vapor recovery systems were being installed, essentially on schedule by terminal and vessel operators in New Jersey. These systems were complex, and introduced new training, technological and safety concerns for crews engaged in cargo transfers. Top level teams of experts put the finishing touches on new equipment and conducted the first tests and demonstrations for terminal and barge crews. Piping, flanging and signaling equipment appeared complex and crews were slow to adopt certain of the new requirements. Long-standing safe operating procedures needed modification as had been predicted by marine experts a decade before.
New Jersey officials altered the compliance schedule and provided extensions for the phasein process.
Still, two more barge fleet operators in the mid- Atlantic contracted for Deck Master equipment.
Work began for one of these fleets in November 1990 and the other in January 1991. As the first systems became operational, crews soon appreciated the improved cargo monitoring features.
Along the Gulf Coast, Louisiana was seen to be leading the way in 1990. It had drafted regulations similar in some respects to those in New Jersey and in California. Several barge operators with activities in the Gulf were in touch with Metritape and were contemplating Deck Master.
State regulators issued delayed compliance schedules based on periodic shipyard inspection schedules by the operators. The onset of inbound Coast Guard inspections appeared to be deferred until the mid-90s. Only two or three Gulf barge operators have proceeded to order new gaging systems which will meet requirements for closed tank gaging, independent high alarm, and on-deck monitoring capacity such as that offered by Deck Master.
For free literature on the new Deck Master gaging system from Metritape, Circle 128 on Reader Service Card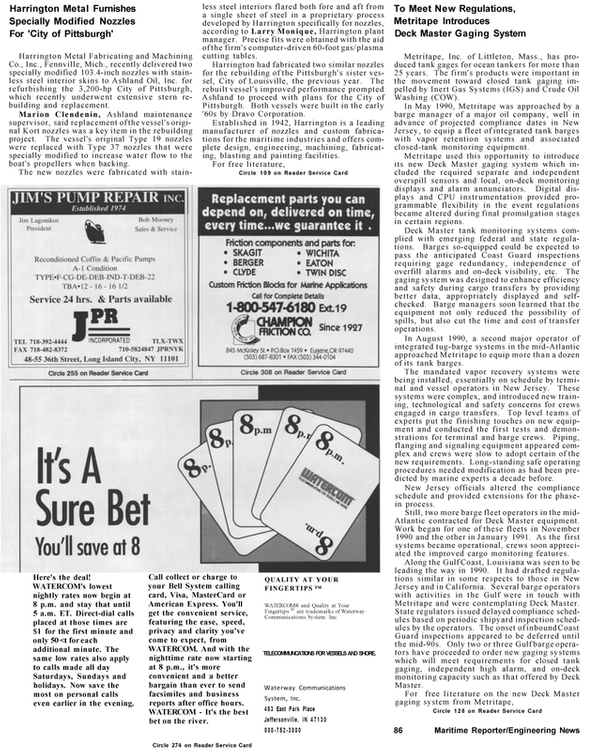 Read To Meet New Regulations, Metritape Introduces Deck Master Gaging System in Pdf, Flash or Html5 edition of March 1992 Maritime Reporter
Other stories from March 1992 issue
Content