Secondary Control Used By Rexroth To Supply Shipboard Electricity
Ships always have had to rely on their own sources of energy. The greater part of the generated energy is required for propulsion, with onboard electricity normally being produced by diesel-driven generators.
The Rexroth Corporation has devised a new method of tapping propulsive power from the main engine using secondary control.
This technology has been successful in industry where it is appreciated for its high dynamics and very accurate speed control capabilities.
Over 600 applications have been equipped with this type of system in recent years, with convincing results.
The pump and motor unit are installed at separate locations. The hydraulically driven generator set comprises the following assemblies: (A) one or more hydraulic pumps are directly coupled to the main engine; The drive can be taken: (B) directly from the main engine; (C) from a PTO; and (D) via a chain or belt drive.
The secondary unit is connected directly to the generator, and may be installed wherever convenient within the engine room.
The ancillary units such as filters, oil tank, and accumulator bank also may be installed where convenient within the engine room. The speed indicator and safety electronics are integrated within the control panel area.
Normally, the main engine drives the hydraulic pump (1) via a gearbox at a variable speed.
The pump is equipped with a pressure control which holds the pressure in the system and accumulators (4) constant independently of the demand.
The secondary unit (2) is equipped with a swash angle control. This in turn is under the control of a servo valve (electrohydraulic control).
A tacho-generator for sensing the actual speed of the unit is mounted on the through shaft of the secondary unit.
The command value potentiometer (within item 3) is used to set the required speed either as a speed (1,500 rpm or 1,800 rpm) or a frequency (50 or 60 Hz). The actual speed is sensed by the tacho-generator.
The closed loop speed control (3) determines any variation in speed and corrects this via the electrohydraulic control unit. In this way, a constant generator speed is ensured.
Shaft powered, hydraulically driven generators with secondary control can fulfill 100 percent of the requirements for seagoing use of the present diesel-electric generating sets; they can fulfill the highest requirements for continuous parallel operation either in parallel with diesel-electric generators or other hydraulically driven generators.
For free literature detailing the secondary control from Rexroth, Circle 57 on Reader Service Card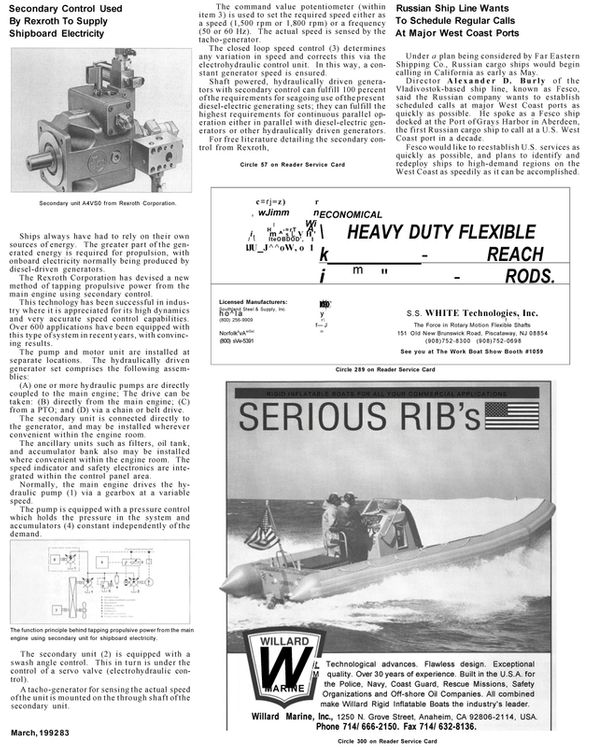 Read Secondary Control Used By Rexroth To Supply Shipboard Electricity in Pdf, Flash or Html5 edition of March 1992 Maritime Reporter
Other stories from March 1992 issue
Content