COMMERCIAL SHIPBUILDING—DIVERSIFICATION AND GROWTH OPPORTUNITIES FOR NAVY SUPPLIERS
By James R. McCaul, President IMA Associates, Inc
Changing military requirements have highlighted the need for traditional Navy suppliers to diversify by developing a growing sales presence in the commercial marine sector. While naval shipbuilding in this country will continue to provide major new business opportunities, there clearly is a need for market diversification to offset the downsizing of naval ship construction over the next few years.
Market Overview The composition of work available to the U.S. marine sector will dramatically change over the near future. Industry in the U.S. will focus less on naval ship construction— an activity which drove much of the marine business in the 1980s.
In its place will be an increasing flow of orders for product tankers, offshore equipment, cruise ship refurbishments, small passenger vessels, megayachts, river barge construction, etc. Importantly, the future workbase will gradually shift from military specification to commercial standard construction. This will provide a wealth of diversification opportunities for manufacturers traditionally selling to the naval ship market. A number of these opportunities are described below.
Cruise Ships There are currently 95 cruise ships servicing the North American cruise trade. Market projections call for a tripling of cruise passenger travel during the coming decade.
One industry analyst recently predicted that 150,000 to 200,000 new cruise ship berths will be required during the 1990s to satisfy increasing demand. Construction of these new ships—costing up to $320 million each—will provide a number of interesting shipbuilding contracts.
Currently, contracts are flowing to shipbuilders in Finland, Italy, France, Germany and Japan. There is no reason why U.S. builders could not participate in this market. Additionally, U.S. builders are wellpositioned for maintenance and conversion work. In IMA's recent analysis of this sector, it identified 16 cruise ships which appear to be refurbishment prospects over the next five years. This refurbishment work alone represents a potential market of $800 million to $1.2 billion.
Coastal Tankers There are currently about 310 coastal tankers operating in the U. S.
domestic trades. They include product tankers, crude carriers, gas carriers and chemical carriers. Abreakdown of the current operating inventory is provided in the exhibit.
About half of the coastal tankers are over 20 years of age and many are reaching the end of their physical life. More importantly, the double hull requirement in the Oil Pollution Act of 1990 will force the retirement of many of these ships. IMA's analysis indicates that 55 percent of the domestic product tanker tonnage now in operation will be forced out of service by 1998. This involves the mandated obsolescence of about 30 ships. Mostly as a result of this forced obsolescence, IMA estimates that 10 to 15 coastal product tankers will likely be ordered over the next several years—at a cost of $600 million to $ 1.1 billion. There will also be some orders for chemical carriers, seagoing tank barges, chemical and specialty tankers.
Sealift Ships The Navy plans to build or buy/ modify at least 30 sealift ships during the 1990s. Current plans call for 20 of these ships being Panamax size RO/RO vessels designed for prepositioning or fast sealift use.
These large vessels will be capable of 24 knots—and will be used solely for military purposes. Another 10 vessels are planned which have both commercial as well as military viability.
A number of options are under consideration—including a convertible containership design prepared by the Maritime Administration.
This MarAd design enables the vessel to be used as a commercial containership in normal circumstances— and be convertible to a RO/RO ship for military missions.
Funding totaling $1,875 billion has already been earmarked for sealift ship construction. Another $1.2 billion is requested in the FY 1993 DOD budget. Nine shipyards are currently working on Navy design contracts. Detailed design and construction contracts are expected to be awarded early next year to several shipyards to begin construction work.
Small Passenger Vessels There are currently 5,300 ferries and small passenger vessels operating in U.S. waters. They provide commuter ferry service, vehicle transport, river and coastal cruises, sightseeing, dinner cruises, river gambling, offshore crew transport, charter fishing, etc. Over the past decade, an average of 190 new ferries and small passenger vessels have been delivered annually by U. S.
shipyards. IMA expects orders to continue at an annual rate of about 220 vessels—providing a yearly business base of about $300 million.
Marine Export Market There are many international shipowners headquartered in the United States. They include major oil companies, independent tanker owners, containership operators, reefer ship operators, chemical ship owners, etc. There are almost 100 shipowners with international operations— where equipment selection is specified or approved by a U.S.
based engineering staff. These firms would appear to be logical sources of business for domestic shipbuilders and equipment manufacturers.
Opportunity To Commercialize Products Many U.S. firms have developed technology, systems and equipment for naval ships with potential commercial application. There is a tremendous amount of talent and know-how among companies which have been involved in designing systems for military use. Harnessing this capability for commercial uses is a task facing management. Given the large and growing commercial shipbuilding market, the marine sector would appear to be a very promising area to target for penetration and positioning.
New IMA Report Available A new report by IMA, "Five-Year Outlook for the U.S. Marine Industry," provides a macro picture of the future U.S. marine market. Future underlying business conditions and likely construction prospects are assessed in each of 24 marine market segments. The study is designed for business planners and marketing executives involved in shipbuilding, equipment manufacture and other marine-related businesses.
The report, number 7119, is available at a cost of $575. To order, contact: IMA Associates, 600 New Hampshire Avenue, NW, Suite 140, Washington, D.C. 20037; telephone: (202) 333-8501; or fax: (202) 333- 8504.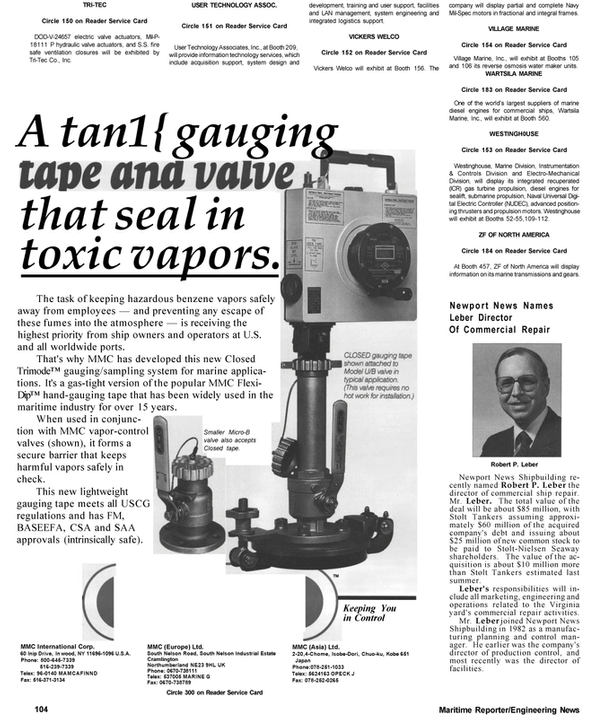 Read COMMERCIAL SHIPBUILDING—DIVERSIFICATION AND GROWTH OPPORTUNITIES FOR NAVY SUPPLIERS in Pdf, Flash or Html5 edition of April 1992 Maritime Reporter
Other stories from April 1992 issue
Content