Great Ships of the Year
Name Tempera Type Double Acting Tanker (DAT) Owner Fortum Built Sumitomo Heavy Ind.
Kvaerner Masa-Yards is well renowned for its ship and ship's equipment ice breaking technology.
Upon visiting Finland on a recent excursion and enjoying winter in November, it's easy to see why. Quite simply, Finland must keep its icy shipping channels open during the winter to ensure its commercial survival. In the beginning of the 1990s, the company, in partnership with the Finnish Maritime Administration and ABB Industry of Finland, developed a new electrical propulsion system for icebreakers, the trade name of which is Azipod. The first vessels equipped with the new system, the 16,000 dwt tankers M/T Uikku and M/T Lunni owned by Fortum operated Nemarc Shipping, have now, combined, nearly 100,000 hours of operation experience, and the vessels have, for example, several times successfully navigated through the North-East Passage in extremely harsh conditions.
Through real world experience and continuous R&D, the shipyard has shown that vessels with a podded drive are capable of breaking ice with a considerably higher efficiency than before, when moving backwards with the propeller first.
This concept — DAT — was developed by Kvaerner Masa- Yards, and now its first reference is in service. The 105,000 dwt M/T Tempera, built in Japan for Fortum Shipping, has arrived to its home waters for the first time, as well as M/T Mastera that will be completed later, are the first cargo ships of this double-acting type in the world. In open water, they can reach a speed of 17 knots, and thanks to their efficient icebreaking capacity that can be achieved while running with stern first, they are entitled to the highest IA Super Ice Class with their engine power of 16 MW, while even 25 MW would be required for this, using conventional technology. These vessels are able to navigate independently in the Baltic Sea area. M/T Tempera was built at the Yokosuka shipyard of Sumitomo Heavy Industries Ltd.
in close co-operation with Kvaerner Masa-Yards under license by the latter company.
Name Midnight Sun Type Commercial Dry Cargo Vessel Owner Totem Ocean Trailer Express Builder NASSCO National Steel and Shipbuilding Company (NASSCO) and Totem Ocean Trailer Express, Inc.
(TOTE) christened M.V. Midnight Sun, the first commercial dry cargo vessel to be built in the U.S. in 10 years. The Midnight Sun is the first of two new Orca-class trailerships being built by NASSCO for TOTE's service from Tacoma, Wash., to Anchorage, Alaska.
It and its sister ship, MV North Star, are 840 x 118-ft. (256 x 35.9- m), RoRo cargo ships offering the option to carry trailers as large as 53 ft. in length. The ships' cargo can be loaded and discharged in nine hours, with the speed and efficiency of this process being an important competitive advantage for TOTE. The vessel, which will transport trucks, cars, trailers, trailer- borne products and equipment, military equipment, and project cargo, will have a hull arrangement consisting of a raised fo'c's'le deck with turtelback; transom stern; bulbous bow; deckhouse aft; six decks with fixed ramps fore and aft.
Though not to be delivered until early 2003, M. V. Midnight Sun and M. V. North Star have already received several awards for their environmentally sensitive design.
These include the States/British Columbia Oil Spill Task Force Legacy Award for 2000, the Alaska Department of Environmental Conservation Commissioner's 2000 Pollution Prevention Award, and the Biennial William M.
Benkert Foundation 2002 Environmental Excellence Bronze Award.
Name Carnival Legend Type Cruise Ship Owner Carnival Cruise Lines Builder Kvaerner Masa Yards MS Carnival Legend, newbuilding no. 501, was delivered to Carnival Corporation at Kvaerner Masa- Yards' Helsinki shipyard this past August. Legend is the fourth cruise ship in a series of new Panamax-Max size cruise ships under construction for Carnival Corporation and operated by Carnival Cruise Lines and Costa Crociere. The first ship in the series, Costa Atlantica, was delivered in June 2000, and the sisterships Carnival Spirit and Carnival Pride in 2001.
Measuring 960 ft. (292.5 m) with a maximum breadth of 127 ft. (38.8 m), a breadth of 106 ft. (32.2 m) and a draft of 25 ft. (7.8 m), Carnival Legend entered service August 21 with a three-day cruise from Harwich, U.K. to Amsterdam. Touted as one of the most spacious ships in the contemporary cruise sector, Carnival Legend carries a total of 2,680 passengers (lower beds: 2,124 passengers) in a total of 1,062 staterooms.
The maximum crew capacity is 961.
The vessel holds a diesel-electric power package, consisting of six Wartsila 9L46D diesel engines, with a total power of 62,370 kW, each connected to an alternator producing electricity to the ship's main electric network. The propulsion consists of two azimuthing electric Azipod propulsion units, with a power of 17.6 MW each. Carnival Legend has a trio of 1.91 MW tunnel thrusters in the bow. The service speed is 22 knots. Classed by RINA, the vessel sails under Panama flag, and fulfills new Green Star environmental standard, consisting of two voluntary RINA class notations, Clean Sea and Clean Air, setting strict requirements on the ship's design and operation, in order to protect the environment and keep the sea and air clean.
Name Murillo Type RoPax Owner Transmediterranea Builder IZAR This past March, IZAR's Seville yard delivered the largest RoPax ferry ever to sail under Spanish flag to owner Trasmediterranea — the 6,900 dwt RoPax Murillo. As the largest RoPax vessel ever owned by a Spanish company and sailing under Spanish flag, it exceeds the dimensions of any other vessel in Trasmediterranea's fleet, even the recently delivered 564-ft. (172-m) RoPax sisters Sorolla and Fortuny.
Seville has introduced substantial improvements in cargo and accommodation capacities on the Murillo, a project that followed the successful design carried out on the Merchant series of four vessels for Cenargo. Payload cargo has been increased, as the accommodation, for instance, has been more than doubled. Murillo has 123 cabins of different sizes compared with the Cenargo vessels' 57 — an increase in the number of passengers up to 396 in cabins and 150 in seats.
Also, Murillo has 2,396 vehicle lane meters (1,900 lane m. for trucks and 400 lane meters) for cars on four decks where Cenargo vessels performed 2,000 lane m. on two decks. The lower cardeck is located on the tank top with the upper one mounted directly above it. Access is provided by a fixed ramp between the decks, which in turn can be accessed via a fixed ramp from the main deck. Two lifting ramps provide access to and from the upper deck.
Murillo is powered by four Wartsila 9L38 four-stroke engines developing 5,940 kW at 600 rpm arranged in pairs in separate engine rooms with separate feed systems, and equips Flender gearboxes.
Lips propellers are used on Murillo, which incorporates two Brunvoll bowthrusters. Stabilizing is done via an Intering anti-roll system.
This is enhanced further with the addition of Mitsubishi retractable hydraulic fin stabilizers.
The quick construction time also is remarkable. The advanced delivery has given a 20-month construction time.
Name Contship Aurora Type 4,100 TEU Container Owner Contship Containerlines Ltd.
Builder Daewoo Shipbuilding and Heavy Machinery Co. Ltd.
Constructed under U.K flag, Contship Aurora was ordered by CP Ships and delivered by Daewoo Shipbuilding & Marine Engineering Co., Ltd. Okpo Shipyard in September 2002. The vessel has been designed and built under the survey of Germanischer Lloyd — the first ship to qualify for Germanischer Lloyd's new "Green Passport" class character. This vessel has fully welded flush deck with forecastle, a raked stem with bulbous bow, a transom stern with open type stern frame, a semi-balanced rudder, a fixed pitch propeller and a bow thruster of controllable pitch propeller. Passageway from engine room to No.2 cargo hold space is arranged below the upper deck at both sides.
The propulsion machinery and living quarters have eight tiers including navigation the bridge.
The speed of the vessel at the designed draft of 39 ft. (12 m) through sea trial is 25.3 knots with the main engine running at 90 per- cent MCR (62,940 PS) with 20 percent sea margin. With respect to vibration and noise, the vessel has demonstrated excellent results through sea trials. Especially the maximum vibration levels in living quarters including the wheelhouse, which was clocked at 4.4 mm/sec, which is below the allowable limit of 7 mm/sec, peak.
The vessel is arranged with seven cargo holds, fore of the engine room, and consists of 16 bays with 14 hatches, with three panel hatch covers in way of each cargo hold (except two panel for No.l hatch cover). The cargo hold is equipped with cell guides and support structure for the carriage of 40-ft. ISO containers, 11 rows and seven tiers, with depth of holds for containers of four tiers with 9 ft. and three tiers with 10 ft. high in general.
Double loading of 20 ft. containers in hold is considered in the 40-ft.
cell guide. Containers on deck can be generally carried with 13 rows and in five, six or seven tiers.
The vessel is designed to carry total 4,121 TEU containers, 1,698 in hold and 2,423 TEU on deck.
Name CMA CGM Neptune Type Container Carrier Builder Hanjin Heavy Industries Owner Hansa Shipping The 4,389 TEU container carrier known as CMA CGM Neptune for Hansa Shipping company is powered by a MAN B&W 9K90MC-C main engine, which produces 55,890 bhp at MCR with 104 rpm to give the vessel a service speed of 24.2 knots at 90 percent of MCR with 25 percent sea margin on a design draft of 39 ft. (12 m). Four sets of auxiliary engine consist of two sets of 1,800 kW at 720 rpm and two sets of 2,100 kW at the same rpm diesel engine. Fully 4,389 TEU containers of 2,017 TEU in hold and 2,372 TEU on deck can be loaded on the vessel in addition to the 500 FEU reefer sockets provided (200 FEU in hold and 300 FEU on deck). Maximum 11 rows with eight tiers containers can be loaded in seven holds, and 13 rows with six tiers containers to be carried on hatch covers. Fortyft.
container based cell guides were equipped in every hold, generally two tiers height of lashing bridge structure was installed between hatch coamings and extraordinary cell guides of 5.5 tiers height help cargo securing on utmost end deck.
Name Bongo Type FPSO Owner Shell Nigeria Exploration and Production Co.
Builder Samsung Heavy Industries Samsung's latest technological innovation is the successful completion and delivery of an 2,000,000 bbls FPSO, Bonga, built for the Shell Nigeria Exploration . " . , Main Particulars and Production Company, SNEP- CO in June 2002.
The vessel, which is a double hull type floating oil production, stor- age, and offloadin6g unit v(FPSO), will be permanently spread moored in Bonga field located offshore Nigeria in water depth ranging from 1,000 to •"1 ,1, 25 ,m . T. he. Machiner.y space will be located underneath the accommodation spaces. The double bottom in way of machinery spaces is used as sludge and oily water drain tanks. The topside process facilities shall be located on Diesel Oil tanks 7,500 cu. m.
above the Main Deck of the hull at the centerline; a helideck has been built above the accommodation.
The hull structure has been designed and constructed to remain on station for the hull field life without recourse to drydocking, and the longitudinal strength of the vessel shall also be considered for tow condition.
The vessel's mooring system consists of four groups of three mooring legs located on port and starboard sides at both fore and aft ends, two sets of 10 tonne air tugger winch, mooring fitting such as bollards and mooring chocks. The Crude oil has been exported from the storage tanks by both oil cargo offloading and tandem offloading system. The hydraulic power pack for the submersible crude oil offloading pumps has been provided to facilitate these offloading.
Nome Stena Britannica Type RoPax Owner Stena R0R0 Builder Hyundai Heavy Industries Built at Hyundai Heavy Industries, the 3,500-lane m Stena Britannica was scheduled for delivery to Stena R0R0 in Sweden on November 30, 2002. Measuring 692 x 96 x 51 ft. (210.8 x 29.3 x 15.6 m), and a design draft of 21 ft. (6.3 m), the vessel is powered by four MAN B&W 9L40/54 engines, each developing 6,480 kW at 500 rpm driving a pair of Rolls-Royce CP propellers through two Renk twin-input/single- output gearboxes. These gearboxes reduce engine speed to 150 rpm enabling the vessel to move at a service speed of 22 knots. The vessel, which will operate between the U.K. and Holland and Ireland, was designed to comply with the new Stockholm Agreement Rules and IMO A 265 for the damage stability.
Four fixed decks (1, 3, 5 and 7) with one hoistable car deck on starboard side of deck five are provided for vehicles offering 3,500 lane m. Vehicles will be loaded and unloaded through a wide stern and bow ramp/door installed on deck three. Two alternators, each developing 2,400 kW take power from the gearboxes and four Hyundai-built MAN B&W 8L23/30H diesel-driven sets, each developing 1,200 kW are provided to the electrical system.
Twin flap rudder is adopted, and two 2,200 kW bowthrusters are fitted for powerful maneuverability.
Name Blue Star Naxos Type RoPax Owner Blue Star Ferries Maritime Builder Daewoo Shipbuilding & Heavy Machinery Blue Star Naxos is the third RoPax, which was constructed under Greek flag and delivered by DSME (Daewoo Shipbuilding and Marine Engineering Co. Ltd.) in June 2002 in compliance with the requirements of BV.
This vessel is the one of twins and the sister (Blue Star Paros) had been delivered just one and half month ahead of the vessel in April 2002. Classed by BV, the vessel has two car decks and two accommodation decks, while the upper garage deck level is divided into the fore half car space and the aft half crew cabins. This layout allowed the complete separation of the above passenger decks from the lower decks machinery noise and vibration. The prototype vessel's bow ramp/door are not repeated to the sister vessels, however, there are still turn around arrangement even on the hoistable platform decks and half length upper garage.
The hoistable platform decks are COREX system from MacGREGOR which having only 100 mm (one third of conventional) depth and no external stiffeners.
The passenger's main entrance is through the separated stern ramp and two escalators which directly leading the passengers to the reception hall, without any interruptions by car traffic or crews.
The vessel can carry 792 winter passengers (inboard) and 1,500 passengers during summer time.
For the large number of summertime passengers, most of weather decks are designed to the sun protected and wind shielded passenger sun decks. Passenger Public spaces are arranged throughout the deck No. 6 and it includes first class lounge, caf6 bar lounge, economic class lounge, a la carte restaurant, self service restaurant, air seat rooms and outdoor cafe.
The public space interior was designed by Apostolos Molindris, known for his architectural concept on the Superfast Ferries. Molindris' partner was Se-Jin for the workshop drawings and installation The vessel, which is fitted with one trailer deck and one car deck, allows vehicles to gain access over the stern at main deck level through an approx. 11 m wide stern ramp. Internal access of vehicles are composed of two tiltable ramps and hoistable car decks of five sections from main deck to upper deck.
Four Wartsila 6L38B main engines each developing 4,350 kW at 600 rpm drive CP propellers for a service speed of 24.4 knots and a maximum speed of 24.9 knots. The drive to a pair of Kamewa CP Propellers is through Flender gear boxes. Electrical power is derived via a trio of Wartsila 6L20 alternator sets each developing 1,080 kW.
One 950 kW Kamewa bow thruster together with two shafts/CPPs/rudders satisfies the vessel's high maneuverability requirements in the busy Mediterranean ports.
Main Particulars Name Maritea Type Chemical Carrier Owner Calisa S.p.A-Augusta, Italy Builder 3.Maj Constructed by 3.Maj for Calisa S.P.A. in Augusta, Italy, Maritea is designed for worldwide service, but its primary voyage profile comprises traffic between Mediterranean oil ports/terminals. The 35,000 dwt IMO Type II Chem Carrier boasts several innovations, such as a hull structural design based on direct calculation (FEM) including fatigue criteria, an Integrated Navigation system with ECDIS connection on both radars, controllable pitch propeller (CPP) installation, and high efficiency flap type rudder and bow thruster for enhanced manuevering. The vessel also holds an anchoring and mooring system designed according to OCIMF criteria, and its wheelhouse, which is designed for One Man Bridge Control, has allround windows and CCTV surveillance.
Maritea's onboard cargo system has midship manifold (eight cargo lines) and stern manifold (three lines). Thermal oil boilers with primary loop for Engine Room Tanks heating and a secondary loop for Cargo Tanks heating.
Name British Trader Type LNG Carrier Owner BP Shipping Builder Samsung British Trader has been noted as a technologically advanced double hull LNG carriers, designed to meet world wide trading on the ship/shore compatibility and fuel tank capacity, double hulled cargo area with four cargo tanks constructed to GazTransport & Technigaz Mark III cargo containment system — for the carriage of LNG cargoes at cryogenic temperature (- 163°C) and atmospheric pressure.
The hull structure, which has been designed in accordance with the requirements of LR's ShipRight, has a fatigue life designed for a period of no less than 40 years.
This vessel, with GTT Mark-Ill containment system, has been built for British owner, BP Shipping, can carry 138,200 cu. m. LNG in its specialized cargo tanks encased with primary membrane of corrugated SUS 304L stainless steel plates, 1.2 mm thick, and secondary membrane of triplex glass wool. The insulation is of 270 mm thick reinforced polyurethane foam. This system makes it possible to restrict boil-off gas rate to 0.15 percent of the total cargo volume per day. Two cargo pumps of 1,700 cu. m./hr. capacity each can be used to completely discharge the cargo tanks within duration of 12 hours after the tanks have been pre-cooled by LNG spray. Two 8,000 cu. m./hr. low duty compressors and two 26,000 cu. m./hr high duty compressors are arranged in the compressor room on the trunk deck and other equipment includes four 50 cu. m./hr. spray pump, 550 cu./m./hr. emergency cargo pump, two 23,400 kg/hr. warming-up heater, 23,100 kg/hr. LNG vaporizer, 7,000 kg/hr. forcing vaporizer, 14.000 N cu. m./hr. inert gas generator and two 90 N cu. m./hr. nitrogen generator. The propulsion system consists of cross-compound steam turbine that delivers MCR of 39,500 shp and NCR of 33,580 shp (85 percent of MCR) at 85.3 rpm, driving six-bladed fixed-pitch propellers to give service speed of 20.1 knots with 15 percent sea margin.
The vessel is provided with one Kawasaki make bowthruster of 2,500 kW.
Name Rickmers Hamburg Type Multipurp. Container Carrier Owner Rickmers Linie Builder Xiamen Shipyard Combining a specialization in project and heavy-lift freight with long experience in liner-type service, Hamburg-based Rickmers- Linie has opened a major new stage of fleet development entailing nine ships of the Superflex Heavy MPC (multipurpose container carrier) designation.
Name Hurst Point Type RoRo Ferry Owner DFDS Builder Flensburger Schiffbau GesellSchaft (FSG) Flensburger Schiffbau- Gesellschaft (FSG) has developed a future generation of RoRo ferries incorporating a capacity for 6,000 lane-m of freight.
FSG delivered the 722-ft. (220- m) Hurst Point, the first of four 23,300-gt RoRo sisters contracted by British consortium AWSR for strategic sealift duties under a transport service agreement with the U.K. Ministry of Defense. The 2,600 lane-m heavily-reinforced design incorporates three decks, with the addition of a 36-ton crane on the weatherdeck, and further demonstrates the German yard's propensity for meeting bespoke RoRo requirements within the bounds of efficient production practices. The vessel series, which has already attracted the interest of operators looking to achieve further scale economies on highvolume routes, combines an unprecedented arrangement of five trailer decks and flexible freight distribution with a rapid service speed of 23-knots. The design thereby promises high productivity as well as a major advance in unit capacity. Close attention to hull form, hydrodynamic performance and propulsive plant configuration has resulted in an attractive speed and power relationship, bearing on freight ton-mile efficiency and also capital outlay. The favored layout keeps faith with the dieselmechanical concept, comprising four medium-speed engines driving twin controllable pitch propellers through reduction gearing.
The engine written into the provisional specification is a sevencylinder version of the MaK M43 series from Caterpillar Motoren, for a total plant output of 25,200- kW. The 6,052 lane-m design from Flensburg could be the next trendsetter. The as yet unique provision of five decks suited to trailer- borne freight comprises four enclosed decks plus the weather deck, served by an inter-deck ramp system configured to allow simultaneous working of four different cargo areas. RoRo access is concentrated over twin stern ramps.
First-of-class Rickmers Hamburg is every inch the modern maid-of-all-work, offering a 640-ton unit lift capacity along with a variable hold space configuration suited to the widest range of breakbulk and conventional cargoes as well as large, indivisible items of freight. The 30,000-dwt Superflex series is due to extend to nine ships before the end of next year, with construction having been distributed among three yards in China.
The Rickmers-Linie program entails five vessels from Xiamen Shipyard and two from Jinling Shipyard, plus the Rickmers Hamburg and a sistership from Shanghai Shipyard.
The five-hold design is fitted with four, high-stooled deck cranes, two of which have a 320-ton maximum lift capacity, while one is rated at 100-tons and other at 45-tons.
By using the two largest units in tandem, piece weights up to 640-tons can be handled.
The hatchway layout provides openings up to 105 ft. (32 m) in length and 34 ft. (10.3 m), accessing holds fitted with adjustable tweendecks. The below-deck arrangements mean that the hold spaces can be highly compartmentalized using three flexible tweendecks, or can be configured to give various hold heights up to 15.7-m in accordance with cargo needs, making for optimum space utilization.
N a m e Harad Type VLCC Owner Hellespont Builder Samsung Heavy Industries Harad is the first in a four-ship doublehulled series of VLCCs constructed for Hellespont of Greece by the South Korean builder Samsung Heavy Industries. During construction, the four vessels were re-sold to NSCSA of Saudi Arabia. The vessel, which incorporates a number of technical features to ensure high levels of environmental protection and high performance, holds a large main engine, improved strength by increased plate thickness, improved service lifetime for coatings by increased paint specification and advanced inert gas system.
The hull form of the vessel has been specifically remolded to meet Hellespont's requirements and differs from the conventional VLCCs, featuring a 'blunt' fore part and a breadth of 190 ft. (58 m) to reduce hull deflection. As a result Harad benefits from a reduction in hull deformation by around 10 percent. This has been achieved by strengthening the primary member, double structures and buttress. The hull structure has been designed in accordance with the requirements of ABS Safehull and LR' ShipRight, with a structural quality maintained with the usage of higher tensile steel to 45 percent of the total hull structural steel weight. In addition Z quality steel were used for outermost strake in the inner bottom and 'E' grade steel in the lowest hopper strake.
The number of individual components within the hull structures and the size of the painting area in the water ballast area have been reduced by using a construction method based on one internal bottom plate for each block. According to the shipyard, this reduces the number of maintenance points onboard the vessel. Local strength requirement means that the bottom longitudinal stiffener of the cargo well has to be 18 mm thick compared with conventional VLCCs, which tend to be 12 mm. This approach virtually eliminates the possibility of welding defects and subsequent paint damage since there is no welding seam.
HARAD is powered by an Samsung Wartsila NSD 8RTA84T-D engine developing (MCR) 33,300 kW (44,640 bhp) at 76 rpm.
The service speed is 16.1 knots at main engine output of 26,780 kW (35,900 bhp) including 15 percent power margin. The main engine operates on heavy fuel oil with a maximum viscosity of 700cSt at 50°C. The large power main engine enables considerably higher speed when utilizing the NCR of the engine.
The ship has a total of 15 cargo oil tanks with a combined capacity of 342,510 cu. m.
at 98 percent loading. In addition, there are two slop tanks fully coated in tar epoxy with a capacity of 7,030 cu. m.. The cargo pumping system allows for a maximum discharge rate of 15,000 cu. m./hr. at a head of 160 mlc via three main pumps. The maximum loading rate is 20,000 cu. m./hr. Three grades of oil can be handled simultaneously through a two-valve segregation arrangement.
The ship is outfitted with an inert gas system with double scrubbers, which reduces the S 0 2 content to less than 2 ppm.
Name World Crest Type Crude Oil Tanker Owner Niarchos Ltd./Anole Shipping Co.
Builder Daewoo Shipbuilding & Heavy Machinery Built by Daewoo Shipbuilding & Heavy Machinery for Niarchos Ltd./Anole Shipping Co., World Crest is a 306,000-dwt double hull crude oil tanker under Greece flag, which was delivered in December 2002.
Designed and built to meet the standard of ABS rule and classed +A1(E), "Oil Carrier, ESP", SH, +ACCU, +AMS, RES, SHCM, NIBS, with the descriptive notes of VEC, SPM and UWILD. To enhance environmental protection up-to-date International Rule & Reg. including MARPOL Annex IV and VI have been applied and H.F.O tanks arranged as double hull. Other requirements and Industrial standards also have been considered such as OCIMF recommendations and USCG Requirement, etc.
The vessel, which is intended for the trade of crude oil having a flash point below 60 degrees in cargo tanks, has been constructed as double side and bottom in way of cargo tanks and arranged with five center/side tanks (p&s) and two slop tanks.
Cargo handling system consists of three cargo pump with capacity of 5,000 cu. m./hr.
each driven by steam turbine and three cargo manifolds on deck for three segregation of cargo loading and discharging.
Water ballast tanks of five pairs in cargo area and two E/R w.b.tanks and two peak tanks are arranged and two ballast pumps with capacity of 3,000 cu. m/hr. each driven by electronic motor are provided.
The design fatigue life at critical connections of hull structure is 30 years and longitudinals end connection in cargo area is 40 years in compliance with ABS SafeHull Phase A requirement.
The speed of the vessel is 15.8 knots with the main engine running at 85 percent MCR with 10 percent sea margin, and the main engine is B&W 7S80MC-C with MCR output of 36,960 PS at 76 rpm driving a fixed pitch propeller.
In addition, a seven-tier deckhouse located aft provides accommodation for 35 persons.
Wheelhouse is arranged for the concept of the One Man Bridge Operation (NIBS) equipped with integrated navigation system including electronic chart display and information system and also interfaced with other equipment and also provided with remote/automation control system.
Name Type Owner Builder M / V Tarantella Chem/oil tanker Whitefin Shipping Trogir The vessel Tarantella features a variety of outstanding and unique characteristics representing an advanced concept of chemical tanker. Compared to earlier Trogir built tankers (Trogir and Azov Sea), the hull of Tarantella embodies a number of upgrading features such as: Execution of bulkheads, bottom and lower stools to facilitate drainage of the cargo /washing water to the practical minimum as described with "str 0.05" class notation; Introduction of trapezoidal corrugation (instead of rectangular) to enable 96 percent of tank surfaces to be exposed to direct jet from washing machines and therefore qualify for ETC notation; Strengthening of structure to suit for wider range of IMO 2 chemicals, which effected bulkheads and boundary of alternate tanks being strength- ened for unlimited filling level of 1,600 t/cu.
m. cargo density and deck structure reinforced to withstand 0.7 bar overpressure, which prevents some cargoes (pentane, pentene) from vaporization at environmental temperatures; Review of cargo tanks/double hull structure by 3-D FEM fatigue life analyze (DNV — Nauticus — newbuilding) followed with introduction of extra thickness, brackets or execution of cutouts and similar as needed for assignment of DNV Plus — 2 notation: Structure fatigue life is 40 years. Extension of double hull further aft — to protect fuel storage tanks from leakage in case of minor shell plating damages; 2 m clear ance is main tained throughout; In order to keep steel hull mass as low as possible some 31.5 percent of HTS (NV36) is introduced, mainly in cargo tanks envelope and bulkheads and partly in bottom plating. Cargo tanks' drying system is composed of one 30,000 cu. m./hr.
air heater with fan, steel ducting on cargo tanks' deck with branches for flexible connections to desired tank; Nitrogen production plant of 4,500 N cu. m./hr. capacity with supply connections to each cargo tank — used for inerting of sensitive chemicals.
Instead of conventional submerged hydraulically driven cargo pumps electrically driven deep well pumps are provided. Speed control by frequency converters. Redundancy, flexibility, maneuverability ease of maintenance, high electricity demand during frequent cargo discharge operation and low initial cost were decisive factors for selection of suitable propulsion/ electricity generation configuration: consisting of two medium speed engines.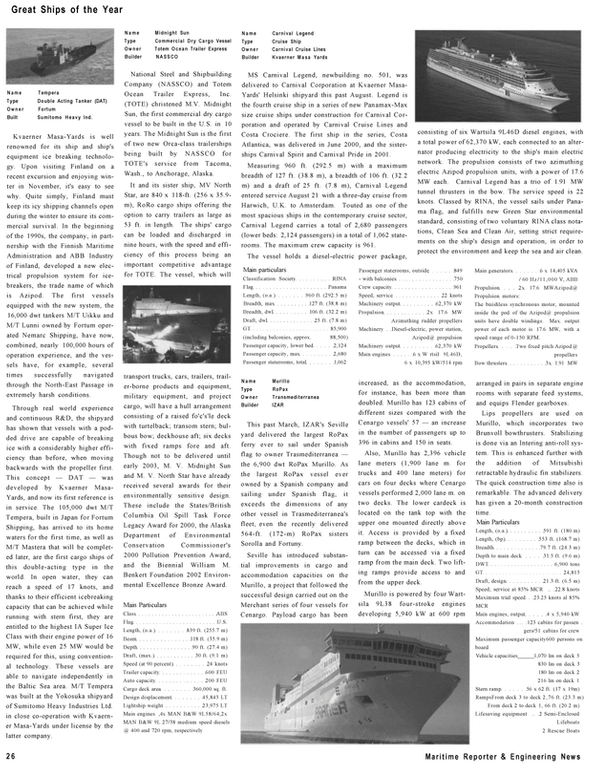 Read Great Ships of the Year in Pdf, Flash or Html5 edition of December 2002 Maritime Reporter
Other stories from December 2002 issue
Content