Meet the ULFPS
by D a v i d Tinsley, technical editor
IZAR Investigates Ultra Large Floating Production Systems as Central to Seagas Project While seeking to consolidate its existing LNG carrier workload by bidding for new tonnage to serve the Qatari export traffic and other projects, Spanish shipbuilder IZAR has intensified its research endeavors so as to create a broader business platform in the energy market.
The group has thrown its weight behind a new initiative aimed at developing floating plant incorporating gas-to-liquids (GTL) technology to extract and convert gas from remote offshore fields into premium grade liquid products. The joint industry research and development project, known as Seagas, draws in IZAR Fene Shipyard (the former Astano establishment), Bermuda-based engineering corporation Foster Wheeler, and other partners from various disciplines.
Against the backcloth of few examples globally of large-scale, land-based GTL facilities, the concept of a floating GTL plant is driven by considerations of the scale of 'stranded' offshore gas reserves, the strategic and market value of GTL products, and the environmental arguments against flaring and in favor of GTL liquid fuels.
The Fene yard's extensive know-how in the field of FPSO (floating production, storage and offloading) unit construction is especially apposite to the new effort to marinize onshore GTL technologies.
One of IZAR's proposals, the Ultra Large Floating Production System (ULFPS), centers on a huge hull measuring 1,148 x 328 ft. (350 x 100 m), with a depth of 105 ft. (32-m), providing the requisite deck area for process equipment and tank storage capacity equivalent to 4.5-million barrels.
The ULFPS would provide for transfer of both stabilized oil and GTL products to shuttle tankers by way of a floating hose, offloading buoy or combination of both, and would incorporate an external bow turret to minimize load forces and motions in rigorous sea and weather conditions.
An alternative solution is the combined FPSO (CFPSO) concept, to overcome possible drawbacks associated with a single, huge floating plant. The CFPSO would consist of two FPSO units of more standard size, potentially with split GTL and crude oil functions, and connected by articulated arm.
Station-keeping would be ensured through an external turret installed in just one of the units, both of which would be thruster-fitted.
The application of know-how and resources to the investigation of opportunities for harnessing GTL technologies in the maritime sector is illustrative of IZAR's bid to strengthen its standing in higher added-value sectors of the market. It attests also to a dogged industrial will, at a time when Europe is giving up more and more of its production capabilities in the face of ever-broader competition from the Far East.
In the meantime, Spain has led European shipbuilding back into the LNG carrier sector. Construction of the Inigo Tapias, scheduled for delivery next August as the first of five membrane-type LNG tankers of 138,000-cu. m. capacity, has signaled the opening of a new chapter in IZAR production, in the face of Far Eastern dominance of that higher added-value sector.
The initial tranche of orders entailed three vessels, comprising Inigo Tapias for Naviera F Tapias, a second ship to the joint account of Knutsen OAS Shipping and Marpetrol, and a third vessel for Elcano - all of which will be run under long-term charter to Repsol. Follow-on business entailed an LNGC of the same type for Knutsen, to serve a charter to Spanish electricity generator Union Fenosa, and a fifth such vessel for Naviera F Tapias tied to a Repsol charter agreement.
IZAR added a new dimension to its orderbook during the past summer when it landed a deal with Norwegian energy group Statoil to build a barge to accommodate processing equipment for gas liquefaction. To be delivered by the IZAR Fene Shipyard, the floating plant will convert natural gas derived from the Snohvit field into LNG and is expected to handle about 70 cargo shipments every year. The challenges associated with the project are intensified by the planned location of the unit in the harsh environs of the Barents Sea, near Melkoya Island off northern Norway Kyoto Tanker As well as its contract for one of the new breed of deepsea LNG carriers from IZAR, progressive Norwegian operator Knutsen OAS Shipping has acted on the perceived potential for an exceptionally small LNG tanker intended to boost the coastal gas supply infrastructure. The vessel is distinguished not only by its modest cargo containment volume of 1,100-cu. m., but also by its planned installation of a bi-fuel powering plant to permit operation mainly on LNG in the form of cargo boil-off, with diesel oil as backup.
Because of the environmental attributes of its propulsion arrangements, the newbuild is dubbed the 'Kyoto Tanker'.
Four gensets will provide energy to the 900-kW frequency-controlled electric motors serving two azimuth propulsion thrusters. During normal service conditions, it is anticipated that cargo boiloff will be sufficient for propulsion needs, engaging the two 900 kW gensets driven by gas engines. Back-up and booster capacity will be available through a second pair of gensets of 640-kW output, using diesel prime movers.
The coastal LNG tanker newbuild building industry in the Netherlands' northernmost provinces, the origin of many of the coaster and shortsea classes at work with the Dutch, German and other fleets, and a source of innovative design and production in the under- 20,000-dwt vessel size category as a whole. Construction has been entrusted to Scheepswerf Bijlsma, a shareholder in the Groningen-based sales, marketing and design engineering firm Conoship International.
Knutsen's move to invest in a small ship able to work into a multitude of potential discharge points with limited space and limited storage capacity along Norway's fjord-indented, Atlantic fringe is an important step in the development of supply network for LNG marine bunker fuel. With a modern, gas-electric fjord shuttle ferry already running exclusively on Norwegian- derived LNG and unfolding projects for other ferries and also offshore support vessels running on 'clean' gas fuel, the industry has demonstrated its willingness to break new ground in usage of more environmentally-compatible fuel under the right economic and logistic circumstances.
The coming year will see the debut of a pair of 4,000-gt supply vessels equipped with dual-fuel engines driving the main generating sets in a diesel-electric system. Booked from Kleven Verft by Norwegian owners Eidesvik and Simon Mokster Shipping, the support ships will be operated from the Coast Center Base near Bergen under charter to Statoil, and will run on LNG with facility for switchover to diesel oil should occasion demand. Statoil reckons that the use of LNG will cut oxides of nitrogen (NOx) exhaust emissions by 85-percent compared with a conventional diesel-burning contract has provided a filip to the ship plant.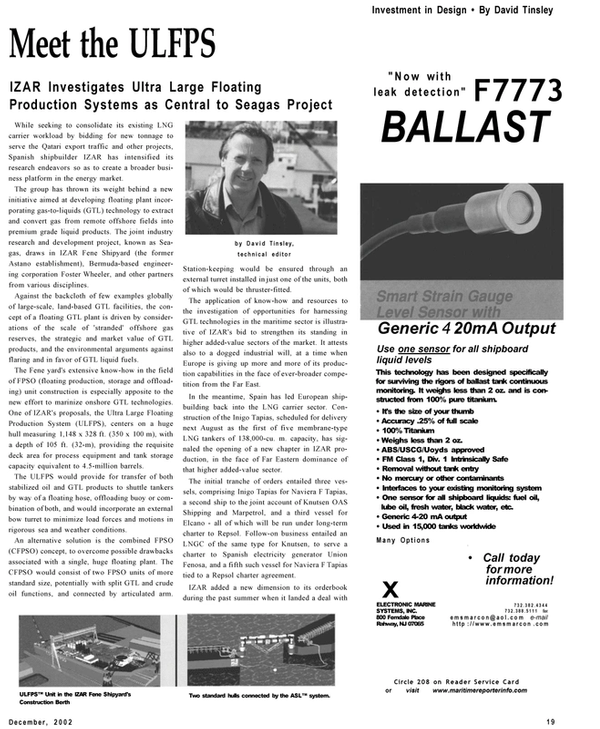 Read Meet the ULFPS in Pdf, Flash or Html5 edition of December 2002 Maritime Reporter
Other stories from December 2002 issue
Content