Global Materials Services Venezuela Takes Two
There is a growing 24/7 attitude in Venezuela, particularly aboard a certain floating platform at mile 182 on the Orinoco River in Puerto Ordaz Venezuela. The Bauxilum Company mines Bauxite from their mines in central Venezuela, and the Bauxite is loaded onto barges and shipped 350 miles downstream to Puerto Ordaz, where the material is offloaded by 2 E-Cranes.
The Bauxilum Company uses the raw material and processes it into alumina, which is the first step in Aluminum making. Sounds simple, but there is more to it. It takes five tons of bauxite to make two tons of aluminum oxide trihydrate (alumina). Two tons of alumina is melted into one ton of aluminum. It takes about 157,000 kWh to make one ton of Aluminum under very low current, but approx. 150.000 volts. In short, it takes enormous amounts of material and energy to produce aluminum. The Bauxilum Company contracted with Global Material Services, LLC (GMSV) of Memphis, Tenn.. to handle 5.3 million tons of bauxite annually for the company. Making the project more interesting was the fact that this has to be done in seven months, since during the dry season the Orinoco is too shallow to allow barges to pass downriver.
To this end, a total fleet of 161 barges — each tow consisting of 25 barges (5x5), each barge is 195 ft.
long, 35 ft. wide, 12 ft. deep, holding approx 1.830 metric tons of bauxite, move 210 days a year, seven days a week, 24 hours a day continuously between the mine and Puerto Ordaz where they are unloaded to feed the plant.
GMSV was looking for a more efficient unloading solution, since the existing cranes required high maintenance and were unable to fulfill the increased production requirements.
GMSV contacted E-Crane USA for a solution. ECrane together with their Belgian partner, Indusign NV delivered a solution in record time: • Two 1500 series, model 11264 E-Cranes mounted on a 100 ft. wide by 400 ft.' long floating platform.
Each E-Crane feeds a floating hopper that is connected with the plant's conveying system and material is put directly into the 2 million ton plant storage area.
One hitch encountered, through no fault of GMSV or E-Crane, was the conveying system. Due to the material characteristics, the conveying system could not keep up with the production capabilities of the ECranes and the plant requirements. GMSV opted to replace one 1500 Series E-Crane with the next larger model to offload a larger amount of "buffer" material and compensate for frequent unplanned conveying outages.
There was a small window of opportunity to make this switch, since the plant operates 210 days continuously, but Indusign manufactured and installed a 2000 Series Model 18264 E-Crane in record time.
The combined production of a 1500 and a 2000 series E-Crane is now more than sufficient to compensate for the unforeseen conveying "issues".
Circle 15 on Reader Service Card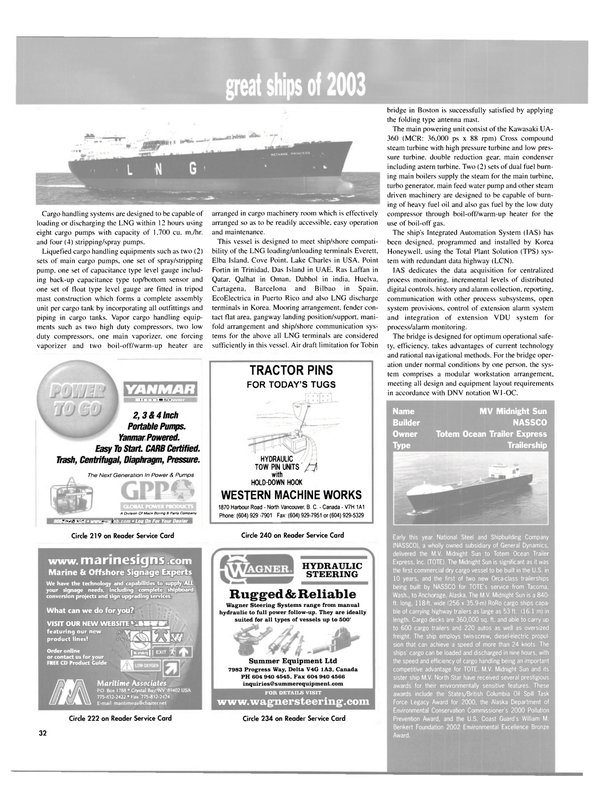 Read Global Materials Services Venezuela Takes Two in Pdf, Flash or Html5 edition of December 2003 Maritime Reporter
Other stories from December 2003 issue
Content