LNG: Maritime's Fuel of the Future
Greg Trauthwein
The move to LNG as fuel in the maritime sector picks up steam, as CMA CGM announced plans to outfit nine of its new 22,000 TEU containerships with LNG fueled engines.
By Greg Trauthwein
A trend that started in the United States is spreading to the world, as global containershipping giant CMA CGM announced its intention to outfit its series of new 22,000 TEU containerships with LNG-fueled engines. The move to 'clean fuel' in the maritime sector has been rapid, spurred by new rules from the International Maritime Organization set to enter force in 2020 which drastically reduces the amount of allowable sulfur in marine fuel. As ship owners mull options, the move by CMA CGM is a watershed moment in the large containership sector.
"We have made the bold decision to equip our future 22,000 TEUs vessels with a technology firmly focused on the protection of the environment," said Rodolphe Saadé, CMA CGM Group CEO. "By choosing LNG, CMA CGM confirms its ambition to be a leading force in the industry in environmental protection by being a pioneer in innovative and eco-responsible technologies."
The new ships will be built by the shipyards group China State Shipbuilding Corporation – (Shanghai Waigaoqiao Shipbuilding Co., Ltd. and Hudong-Zhonghua Shipbuilding (Group) Co., Ltd), according to Ludovic Gérard, Vice President of CMA Ships. "These vessels will be the largest newbuilt ocean-going containerships in the world to run on LNG, thus complying with the global sulphur cap taking effect in 2020 and anticipating future regulations. Their delivery is expected throughout 2020 with one ship arriving every month and a half on average."
History in the Making
TOTE Maritime made history when it ordered a pair of LNG-fueled containerships, the world's first, which were built and delivered by General Dynamics NASSCO in San Diego. The ships, Isla Bella and Perla Del Caribe were delivered as a part of a two-ship contract signed in December 2012 with TOTE, making the 764-foot long Marlin Class containerships will be the largest dry cargo ships powered by LNG.
The announcement from CMA CGM is significant as these will be the largest ships in the sector to sport the new technology.
"This is both a real turning point for our group and a strong signal sent to the entire industry. Of course, this decision comes after years of research and work, both within the CMA CGM Group and outside," said Gérard. "The choice we are making regarding LNG is just the beginning because we are thinking long term and we are always working on new innovations. We will continue our efforts to build and strengthen a new strong and efficient LNG supply chain."
The engines for the project will be designed by Winterthur Gas & Diesel Ltd (WinGD), specifically the 12-cylinder X92 DF engines. "They will be rated 63,840 kW at 80 rpm, making them the most powerful gas and dual-fuel engines ever built," said Gérard. "The dual fuel auxiliary engines are not yet selected."
"LNG will make up over 98 per cent of the ship fuel used to run these ships. Marine gas oil which will be used for ignition in the combustion chambers of these engine, will constitute just a small percentage of the overall ship fuel usage (less than 2%)," said Gérard
According to the ship owner, the project is not without challenges.
"If we look at today's use of LNG on containerships, we are talking about ships with a capacity of about 3,000 TEUs. With our decision LNG will be used on giant vessels in 2020," said Gérard. "So we have worked a lot over the years both within the group and with leaders in the LNG-industry. Our decision will use what exists today but to a larger scale. For example, one of our challenges was the optimization of the LNG tank within the hull of the vessel, to cope with its desired capacity and sloshing effect. The result is a single tank underneath the deckhouse and slightly protruding in the cargo hold, designed by GTT and approved by Bureau Veritas as classification society."
The Fuel
In recent years the maritime industry has been in the crosshairs of environmental regulators focused on reducing emissions from ships at sea. In kind, the maritime industry has looked for new and emerging technologies, from fuel 'scrubbers' to the use of alternative fuels. The use of LNG has emerged as an early favorite, as compared to heavy fuel oil it offers:
--
99% less sulphur emissions
--
99% less fine particles
--
85% less nitrogen oxides emissions
"LNG significantly reduces key emissions; it is the best available solution with 99% less sulfur emissions, 99% less particulate matters, 85% less nitrogen oxides emissions and up to 25% less CO2 emissions. The choice for LNG helps us comply with the regulations that will be in effect in 2020 but above all, we think that by choosing LNG, we will be ahead of future regulations as ongoing talks tend to prepare for more binding regulations in the future against polluting emissions and the need to use clean energies," said Gérard.
CMA CGM currently has 462 vessels calling on 420 ports on five continents, and it said that with LNG its Energy Efficiency Design Index (EEDI) which measures a ship's environmental footprint is improved by 20% compared to ships only propelled by fuel oil. The move to LNG as fuel for ships of this size will require more than an investment in ships, also an investment – with port and LNG suppliers – in adapted infrastructure to support the initiative.
"Today, our historic decision to move towards LNG for the nine future 22,000-TEUs containerships that will start to join our fleet in 2020 represent a great accelerator for the entire industry," said Gérard. "As a matter of fact, it will benefit fully from the new supply chains we are going to create and strengthen to serve large-capacity ships. Imagine that our future containerships will have 18,000 cu. m. tanks. That is why we are using our position of leader to make the industry cleaner and more responsible. Consequently, our investments are long-term oriented and are global."
"We are currently working with our partners towards an operational, regulatory and technical framework that will allow a ship to receive LNG without disrupting commercial operations. Some major ports, for example in Northern Europe, are very dynamic in terms of supply chain for LNG and we anticipate new infrastructures in Asia, for example," said Gérard
CMA CGM By the Numbers
Volume transported
15.6 million TEU/year
Ports of Call
420 in 160 countries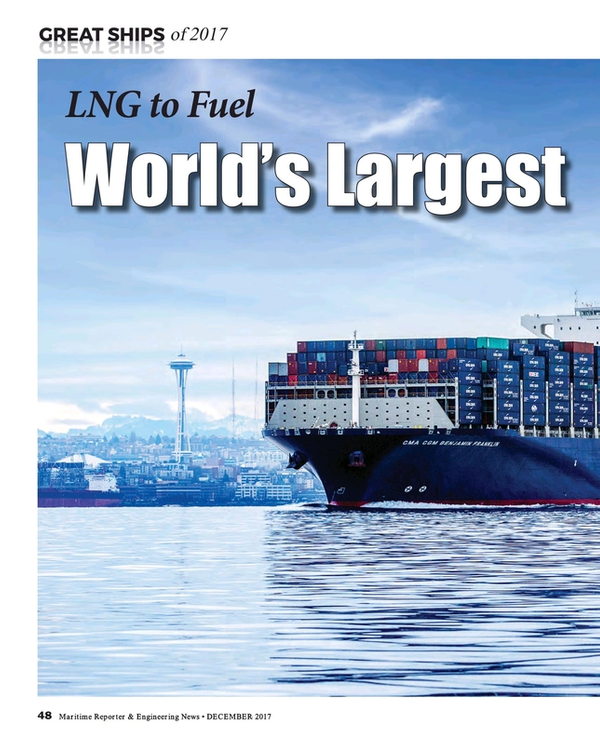 Read LNG: Maritime's Fuel of the Future in Pdf, Flash or Html5 edition of December 2017 Maritime Reporter
Other stories from December 2017 issue
Content