Maritime's Digital Transformation & Simulation-based Training
Tom Mulligan
Nearly 200 delegates from across the world gathered in Den Haag, The Netherlands in September 2017 to hear about the latest developments in maritime training based on state-of-the-art simulation technology. The three-day Kongsberg UC2017 International Maritime Simulation User Conference brought attendees up to date on developments in digitalization, maritime training, navigation technology, maritime operations simulation and the use of virtual reality in training. Tom Mulligan reports.
New digital technology and advanced simulation are set to improve modern education and training methods significantly in the near future.Norway-headquartered Kongsberg Group (KONGSBERG)has developed an open digital platform, Kognifai, that takes simulation to the next level by providing an ecosystem for maritime education, training and studies. Training material can be made available and shared through access to a library of high-quality simulation exercises that fit the curriculum, or by sharing exercises developed by trainers themselves,thereby easily connecting simulators online in the same virtual exercise environment to enable students to train and interact together just as in real life. Kognifai is also a platform that will enable decision support through advanced simulation studies of vessel design, operational verification and optimization.
Future-looking management platform
Kongsberg Digital is the group-wide center of digital expertise for KONGSBERG and provides next-generation software and digital solutions to customers within the maritime, oil and gas and renewables and utilities sectors. The company consists of more than 500 software specialists with expertisein the Internet of Things, smart data, artificial intelligence, maritime simulation, automation and autonomous operations and in July 2016became the parent organization for the staff, products and expertise of the incumbent Kongsberg Oil & Gas Technologies and the maritime simulation department of Kongsberg Maritime. Kongsberg Digital also supports the Kongsberg Information Management System (K-IMS), a future-looking open platform for vessel management and operation that offers full integration of sensors and systems for smart data and decision support and acts as the bridge between offshore marine systems and onshore business enterprises.
"Digital transformation is at our very core," stated Hege Skryseth, President, Kongsberg Digital. "Our raison d'être is to develop innovative software-based collaborative solutions that enable our customers to digitalize their businesses and operations. At the same time as bringing transformation to our markets, Kongsberg Digital has been an important catalyst for KONGSBERG's own digital revolution. We were established in 2016 as the center of digital expertise for the entire group – essentially driving the digital transformation of a company that has been at the forefront of industrial innovation for over 200 years. Kongsberg Digital coalesces the existing digital expertise in KONGSBERGto ensure we are ready to meet new demands and leverage opportunities as connectivity, robotics and artificial intelligence become so prevalent that they are changing the very foundations of the industries in which we operate," she said.
"The Cloud is fundamental to digital transformation, but our vision is much more than hosting data on distributed servers," she added. "The Cloud is the infrastructure; digital transformation is its application. For instance,theKognifai digital platform is a set of tools built on modern Cloud technology that makes the development of applications easy and ensures access to real-time data from various sources. Kognifai provides collaborative solutions across industries and for maritime training it provides an ecosystem, whichfacilitatestraining anytime and anywhere through the subscription of software, exercises and models that enable the connection of simulators and users in co-training scenarios, as well as offering a platform for advanced simulation studies of vessel design, performance and operational verification and optimization.It is,however, not a product in itself. The services, applications and solutions on the platform are the products that that will benefit our customers by giving them greater access to their data in a way that allows them to gain an operational edge.
Open system
"It's important to understand that Kognifaiis not a simple storefront for our own applications," Skryseth emphasized. "While we are continuously adding new first-party solutions to the platform, from vessel data analysis to drilling software for offshore oil andgas, we have also opened Kognifai up to third parties to enable them to make their own digital applications available through this open digital ecosystem. But, most importantly, Kognifai also acts as a development platform, allowing KONGSBERGand other companies to collaborate and create exciting new solutions that will bring even more efficiency to industrial operations.
"If we consider industry migration to digital platform operation, the drivers and the benefits are quite clear, and the ability to optimize the collection, analysis, and application of data is key," she continued. "Ships, oil platforms and wind turbines are the sum of thousands of parts, delivered by hundreds of suppliers. All the control systems, monitoring technology and sensors that are vital to their operation produce data, which in many cases can be made available to act upon and improve operations, leading all the way to secure more profitability.
"But, traditionally, data are only available in silos, in the proprietary systems developed for each piece of equipment. It's virtually impossible to get a full, connected picture and, without that, you cannot truly optimize operations. But with digital platforms like Kognifai, data from disparate systems can be homogenized and managed within a single system. The potential for gain from the analysis of diverse data on a single platform is incredibly high. Previously hidden trends become visible, cause and effect can be measured, and action can be taken based on this to generate tangible efficiencies on a company'sassets, for instance by building models for predictive maintenance basedon historical data," she said.
"Digital transformation brings data together and significantly increases the value of data," Skryseth continued. "But there are other drivers, for instance a company will no longer need to buy and manage its own servers. Likewise, with managed services, the experts can take care of the user's cybersecurity needs. At a more detailed level, the advantage of Kognifai is in having access to diverse applications on a single platform: this has the added benefit of enabling data sharing between diverse systems.As anexample, KONGSBERG's EmPower conditionmonitoring system combines information from sensors on a wind farm with a machine-learning algorithm that can predict a turbine failure up to ten months in advance. By adding this algorithm to Kognifai, we were able to provide the same service for our maritime customers that wanted to move from calendar-based maintenance to predictive maintenance on their rotating machinery: this would not have been possible if we didn't have the Kognifai digital ecosystem in place to share knowledge and developments between our industries.
"Digital transformation also opens the market for new players from other industries, for instance non-maritime companies using their digital competence and solutions to enter the industry. With digitalization, 'silos' are disappearing and proven solutions and technologies can move across industries. This provides benefits to new customers in a more streamlined and cost-effective approachcompared to the traditional way of entering new markets," she stated.
Conservative industry?
"It's often said that the maritime sector is asomewhat conservative industry, and while that is to some extent true, we are lucky to be working with some very forward-thinkingorganizations and customers," Skryseth remarked. "There are still large sectors of the industry that are not actively pursuing digital transformation. This doesn't mean they will get left behind, but a company that bases its business on digital operations will see many more doors opening for it.
"As it is today in the world of high-end complex vessels, potential customers will have specific requirements for the availability of operational technology and processes. It could be that in the future, as digitalization becomes more mainstream, if you are unable to show that your fleet has access to specific applications then you maynot be able to tender for projects. We're not saying that as a definite, but we could see a point where larger customers, for instance national oil companies, will have a certain level of 'digital requirements' when looking to charter vessels.
"There could also be an environmental aspect here. With increasing demand to reduce emissions from a social and regulatory standpoint, will a fleet that isn't harnessing technology to optimize fuel consumption ever be as competitive as one owned by a company clearly demonstrating its commitment to efficiency by actively trying to improve operations using contemporary solutions?
"We are the first to admit that as an industry adopting digital transformation, we are not there yet. But we are well on the way and we are bringing our customers and partners with us. Interest in Kognifai has been incredible: we are already signing up third-party developersthat are keen to migrate their own digital applications to the service. We have quite quickly realized our ambition of bringing the first truly open digital ecosystem to our customers, which helps to validate Kognifai not as a storefront, but as a means to catalyze a procedural shift in the way that they do business and operate in complex industrial settings."
For further information visit the following: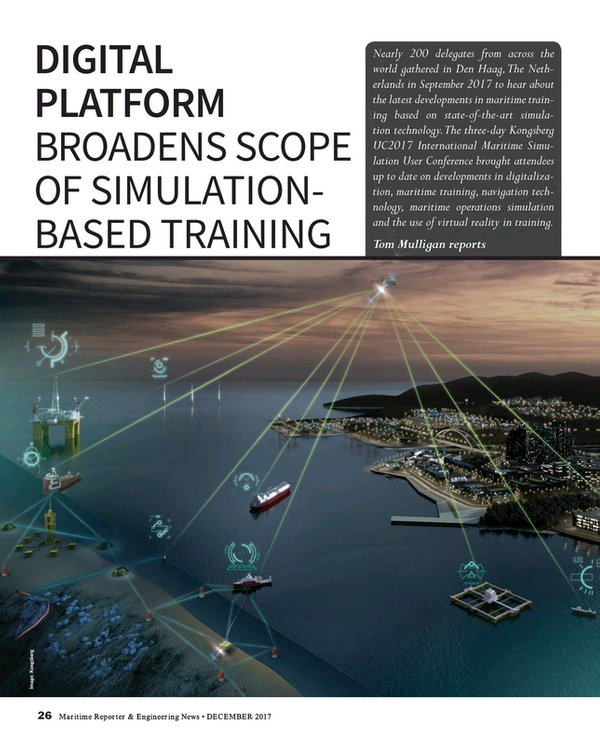 Read Maritime's Digital Transformation & Simulation-based Training in Pdf, Flash or Html5 edition of December 2017 Maritime Reporter
Other stories from December 2017 issue
Content